The World Health Organisation has not yet declared the new coronavirus to be a pandemic, but to some of us who earn our living from moderating at events or training international teams, we are already suffering the consequences.
Last Friday the Swiss Federal Council announced a ban on all gatherings of more than 1000 people. It looked to be curtains for the International Film Festival and Forum on Human Rights scheduled for the 6th to the 15th March.
But yesterday the organisers announced their "programme 2.0" in which a smaller number of discussions and interviews would be transmitted live over the Internet allowing the public to ask questions of the speakers.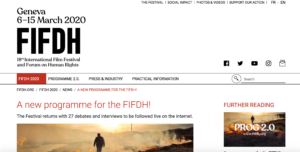 Proof indeed that webcasting is a potential solution for event organisers as they navigate the uncharted territory of travel bans and cancelled conferences and panel discussions.
Webcasting is just one option as I outline below based on my experience as a radio and video producer, presenter and panel moderator.
Audio or video
Audio, like radio, is much easier and less expensive than video.
You can create a sense of intimacy and connection with the listener if you have a moderator with a well-modulated voice and who is skilled at animating a discussion.
The speakers must also have good radio voices and have clear opinions and points to make.
With video, it is technically more complicated as you will need lights, camera and operators depending on the size of your budget. However, people remember things best when visually presented so video can be more powerful.
Pre-record or live
Live broadcasts get more viewers, as people love the sense that they are in real-time and capturing the moment.
However they come with the risk of technical glitches, challenging audiences and online trolls.
If you have a well-developed social media strategy and significant followers, then broadcasting on Facebook or YouTube live is a good option as it is technically not complicated and relatively inexpensive.
However, you have more control over a pre-recorded audio or video discussion and can also use the material in podcasts, online and on digital platforms to maximise audience engagement.
Whether live or pre-recorded, keep the panel discussion to no more than 30 minutes. Unlike traditional panel discussions, which can be from 45 minutes to 1 hour 15, those that are recorded and watched on line need to be shorter so you manage people's short attention span.
Logistics and look and feel
Whether you are pre-recording or going live with audio or video, you need to think about the look and feel of the discussion. Do you want people to be seated on sofas like on Breakfast TV or in high backed chairs like at the World Economic Forum in Davos or will everyone be on high chairs news presenter style? It will all depend on the atmosphere you want to create.
Here are some other thoughts:
• Do seat the moderator and speakers so that everyone has eye contact. You don't
want them to be seated in a line.
• Keep the number of participants to 4 including the moderator.
• Check the sound quality. Tie mikes are best for video and audio, as people often
don't hold mikes correctly.
• Dress so that tie mikes can be clipped onto a shirt or blouse with no cable
showing.
• Make sure the room or studio is sound proof. If you are recording in an office
space, turn off the air conditioners as they hum.
• Provide make up or at least powder for video as this evens out the skin tone and
under studio lights guests won't perspire.
• Select a moderator who is used to taking instructions from a director in their
earpiece if you are webcasting. The moderator will need to pass instructions on
to the speakers such as which camera to look into.
• Have an autocue for the moderator's opening and closing remarks and for the
questions coming in from the public.
Use professional production houses
Check out your local video and audio production houses and their studio facilities. They can advise you on what is technically possible in terms of lights, microphones, and cameras as well as how to manage speakers remotely and handle questions from the public.
In Geneva, I have worked with Actua films and La Souris Verte and just outside Lausanne there is Smart Cuts video and animation run by a former BBC colleague.
So event organisers, and moderators, don't abandon hope in these uncertain times. Think creatively and you will be able to hold panel discussions albeit in a different format.