Until COVID-19 struck, my virtual training consisted of coaching over Skype for clients I couldn't meet face to face.
Today all my training is conducted virtually over numerous other platforms; clients highly rate the experience and learning and development departments are happy to be able to provide this opportunity for their staff's personal development while working remotely.
In the past 6 weeks, I have been running eWorkshops in writing, moderating, storytelling, presenting, media and job interviews and speechwriting.
This is what I have learnt about what makes a successful virtual learning experience.
eWorkshops not webinars
Clients are telling me they much prefer an eWorkshop, which is interactive and participatory rather than watching a YouTube video or attending a webinar, which is usually a PowerPoint Presentation with Q&A.
I know from my attempts to do yoga online that what I really miss is the individual feedback on what I am doing wrong!
With eWorkshops, participants can get that individual feedback just like in the face-to-face training room experience, as long as the group is no more than 8 people.
Short bursts not long seminars
Managing attention span is particularly challenging over videoconferences. According to Gianpiero Petriglieri, Associate Professor at INSEAD this is because everyone – participants and trainer – are consuming more energy trying to process the non-verbal cues when we are all reduced to thumbnail videos.
This is why all my trainings are either 60 or 90 minutes in length. If I am asked for longer, we take a break so that people can stretch their legs and give their eyes a rest from the screen. Often I ask them to prepare or reflect on something related to the workshop so it is time well spent.
Furthermore short sessions spaced out over a period of days fit well into people's busy schedules as they juggle work and personal commitments.
Synchronous and asynchronous learning is a win-win
This hybrid model where participants learn during and also between sessions means they have more time to absorb the learning, put it into practice and prepare well for the next session. They can also choose when they want to do the asynchronous learning.
Furthermore over a series of three or four short sessions, they can cover in the eWorkshop the same amount of material as in a face-to-face training.

A dynamic trainer to recreate the training room experience
It is vital that the trainer has the skills to make the learner feel as if they are in a face-to-face training. This means taking a learner centric approach so that the content is well structured, easy to follow and varied to appeal to those who learn by seeing, watching, hearing, doing, touching and interacting.
In addition, the trainer has to power up their delivery skills – be more animated, modulate their voice and better read the participants non-verbal cues.
And they have to have a great sense of time management. Training virtually is like producing and presenting a TV programme so the trainer has to keep track of the time and end on time as otherwise the line will go down!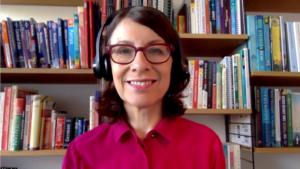 Zoom into the virtual training world
I recommend Zoom as a platform for training and coaching. For anybody anxious about using technology, it is the simplest to use – easy to navigate, interactive and with good audio and video quality. And it is secure – even too secure as a head of HR never made it into one of my sessions as I mistakenly left her in the waiting room!
What clients are saying
Claire's eWorkshop was the perfect length, well structured and delivered clearly and compellingly. She kept me engaged throughout and it will help me in my work persuading stakeholders and presenting my ideas.
Giulia Ragonesi, Associate Legal Officer, World Intellectual Property Organisation, Geneva
This was the most refreshing and positive e-learning experience that I have had in a long time. It was interesting and engaging with just the right amount of exercises. The sessions were well spaced out so we had enough time to prepare for the next tasks. Claire was totally amazing and her expertise and teaching style made this a very valuable workshop to attend.
Zlata Prlenda-Kunstek, Human Resources Assistant, UN Convention to Combat Desertification, Bonn
I learnt so much during the session. As well as tips, techniques and practical exercises, the way Claire delivered it was a learning experience in itself and on worth emulating!
Diego Gutierrez, Head of Student Services, Graduate Institute, Geneva
The 90-minute session was extremely enriching, packed with takeaways that will help us moderate impactful virtual conferences.
Nicole Martins-Maag, Head of Unit, Law and Policy Outreach, International Committee of the Red Cross, Geneva

Face to face training and coaching are often people's preferred option, but eWorkshops are certainly a great alternative and can be an equally valuable way of learning and honing skills. And many believe that even once the pandemic is over, virtual learning will be here to stay!
Claire runs e-workshops on virtual meeting facilitation, presenting, media and job interviews, storytelling, conference moderating, speechwriting and business writing. If you are interested in honing your skills, contact her at claire@doolecommunications.com.