Did any of you watch the Oscars last month? The format changed with no host – part of an effort to make the ceremony shorter – due to declining viewing figures in this day and age of shorter attention spans.
Whether high profile like the Oscars or for smaller awards at smaller events – think your annual conference or end of year party – ceremonies take planning and preparation.
Believe me, I know as I advise companies and organisations and have acted as host at a few awards ceremonies.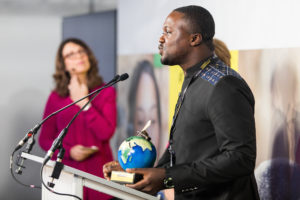 If you want to make sure your ceremony is remembered for the right reasons and not for the wrong ones – like the notorious "envelopegate" when "La La Land" was accidentally named the best picture instead of "Moonlight" at the 2017 Oscars – have a look at my tips for organisers, presenters, recipients and hosts.
Preparation prevents poor performance
Everybody needs to be on the same page about their role so organisers need to brief the presenters and recipients about the length of their remarks. The Oscars rule this year was no more than 90 seconds for the winners from the moment their name is called to the end of their speech. 90 seconds is 225 words on average when speaking in public in English.
Presenters remember it is not about you but the winners, so keep your remarks short.
A clear briefing about the content is also essential. I once had the head of the jury read out all the names of the winners at the beginning when he was meant to talk only about the selection process. I had to stop him in his tracks, not least because a very senior EU official was due to announce one of the winners!
It sounds obvious but presenters must have read, listened or watched the award winning entry. Some I have worked with asked me while on stage how to pronounce the name of the winner and their project.
On the day itself
Organisers must go through the choreography on stage with the presenters and winners (normally people know ahead of time if they have won!) at least 1-hour before.
If there are last minute cancellations, the presenters need to be assigned new tasks and quickly assimilate them. I once had a no-show and half an hour before the event the replacement presenter also announced they had to attend an important meeting so the pack of cards had to be reshuffled again – with a varying degree of success!
Many events are now live-streamed or videoed and the audience all have smart phones so that if it goes wrong, its digital footprint remains for ever and could even go viral.
I was pleased to read that the Oscars organisers have not ruled out reinstating a host as master of ceremonies next year. It was after all the host, Jimmy Kimmel, who reined in disaster during the notorious "envelopegate" gaffe in 2017. Sometimes a professional MC can save the day!