It amazes me that politicians still think they can get away with not answering the question during media interviews. Who are they hiring for media training? Certainly not me!
The web is full of examples of what not to do during a media interview. In my trainings I use an example of a Blackberry executive who is so on message but completely fails to hear the question.
Watch this as an example of a car-crash interview on BBC Breakfast.
He then went on and made the same mistake in other interviews. He became the story.


Twitter went into overdrive.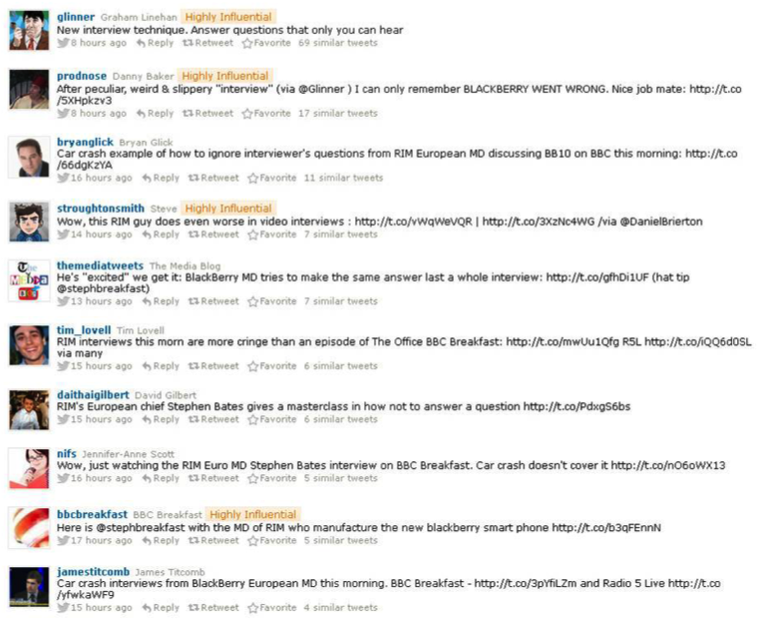 What happened to the hapless executive? I understand he is no longer with Research in Motion, the Canadian company behind Blackberry.
That fate may also lie in wait for the beleaguered British Prime Minister, Theresa May. She has made so many mistakes in handling last week's tragic fire in a London tower block, that PR experts will be trawling over them for decades.
I shall limit myself to one.
BBC Newsnight presenter Emily Maitlis asked her if she had misjudged the public mood in her response to the fire. The Prime Minister had initially failed to meet those who had lost their homes and loves ones, preferring to talk exclusively to the emergency services.
Watch this extract of the interview.
As you can see, she dodged the question. How much more effective it would have been to have acknowledged that the support for the families had not been good enough. A remark she eventually made 4 days after the fire gutted the tower block, leaving at least 58 people dead.
So what is the key learning point here? If you should ever do a media interview, make sure you answer the question that is actually asked – not the one you want to be asked! Then you can bridge to what you want to say with much more credibility. It will also mean that you are less likely to be asked the question again or accused of not answering the question.
It really is as simple as ABC – acknowledge, bridge, continue to your comment.
What a pity that the British PM failed this basic lesson in talking to the media.
If you would like to hone your media interview skills, get in contact with Claire and her network of ex BBC and Reuters journalists. They will put you through your paces so that you get your message across effectively.